A strange thing in my engine compartment...
03-23-2008, 04:27 AM
Join Date: Mar 2008
Location:
Posts: 12
A strange thing in my engine compartment...
---
There is a strange thing inside the engine compartment of my 55 caddy
It's a kind of tank, connected to the carburetor through a metal tube and there is no other connection.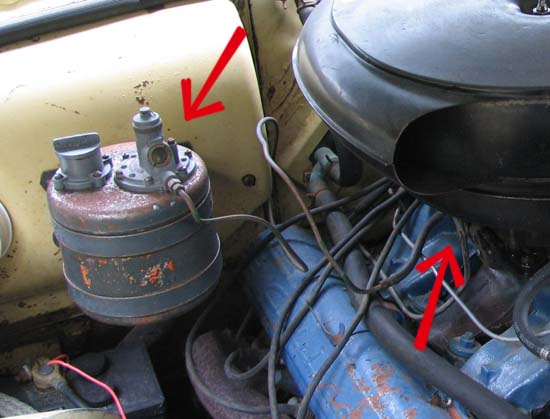 contains red oil, like a oil for automatic transmission
someone knows what it is?
Thanks
04-05-2008, 01:36 PM
Join Date: Mar 2008
Location:
Posts: 12
RE: A strange thing in my engine compartment...
---
BINGO!!!!
Top Cylynder Lubricator
-
04-05-2008, 02:24 PM
RE: A strange thing in my engine compartment...
---
ORIGINAL: caddy55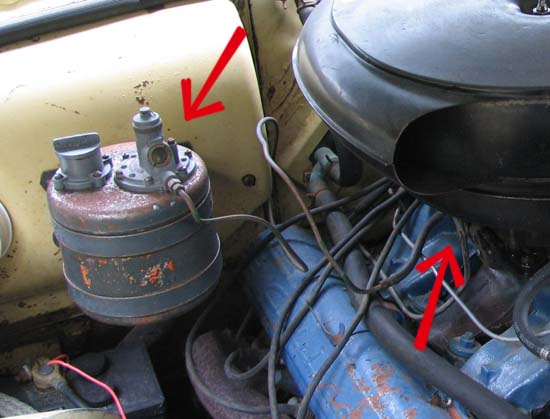 BINGO!!!!
Top Cylynder Lubricator
-
is this thing aftermarket?
I dont quite get what it does.
Top Cylinder? what cylinder are we looking at?
I must find the car record player of that era.
another interesting gizmo that made me ... " huhhh ? ? ? "
04-05-2008, 02:29 PM
RE: A strange thing in my engine compartment...
---
OK .. just saw the link, so here we go ...
zinzin, help us out .. bet you seen this before.
=======================================
Benefits

Extends Engine Life
Cuts Maintenance Costs
Quiets Engine Operation
Increases Engine Power
Promotes Faster Starting
Maintains Friction-Free Ring Action
Reduces Carbon, Gum, and Acid Deposits
Controls Engine "Ping" Caused by Deposits
Improves Valve and Hydraulic Lifter Action
Provides Substantial Savings on Fuel and Oil



An Evaluation of Methods of Introduction of Top Cylinder Lubricants


It is difficult to establish the benefits of upper cylinder lubricants which are added to the prime
effect of such additives in combination with the crankcase oil. It must be recognized that mere
dilution of the crankcase oil is not the answer to top cylinder lubrication. If the normal channels
of lubrication of an engine are blocked by carbon, gum, varnish or sludge and the flow of oil or oil
vapor to certain points has been blocked it is not reasonable to assume that material, which is
added to the crankcase oil, will reach such working parts. It has been established that minutes
elapse in the operation of a cold engine before any oil or oil vapor reach certain moving parts. It
is reasonable to assume that material which is added to the crankcase oil would involve this same
condition with respect to primary lubrication.
The addition of properly compounded top cylinder lubricants to engine fuel provides for some
added lubrication within an engine. The difficulty is associated with the correct proportion of
top cylinder oil to engine fuel since the addition of a sufficient volume of oil to provide adequate
lubrication would result in a decrease in the octane value of the base fuel. There are other
complications involved with oil treated gasoline. A basic difficulty is related to the fact that
acceleration of an engine results in a high fuel and oil input coincidentally and engine deceleration
provides for low fuel and oil ratio as at starting or during extended idling periods. Treated fuels
cannot provide for high oil to fuel input during any period of operation of an engine.
Conventional methods of introducing top cylinder oils into an engine by lubricating devices have
resulted in the use of oilers which meter drops or slugs of oil into the intake manifold. A drop of
oil on a cold metal surface is ineffective within the ......... ..........
A summary of operating characteristics which are exclusive with the AMPCO system and of
advantage to engine operation and durability include the following factors:
- A permanent method of providing controlled upper cylinder lubrication to an internal
combustion engine.
- A method which ensures the even distribution of an upper cylinder lubricant throughout
an entire upper section of an engine.
- A lubrication system which provides upper cylinder lubrication before ignition occurs within
an engine.
- A method of introducing an upper cylinder lubricant which provides for a high oil to fuel
ration during normal operating intervals to afford undiluted engine lubrication in the heat-
wear zone.
for the rest go here:
http://www.ampcolubes.com/benefits.html
Thread
Thread Starter
Forum
Replies
Last Post